Long Term Care insurance (LTCi) – an increasingly more important risk managing tool
What is the smaller mistake? The 'waste premium dollars' vs. 'going uninsured' dilemma in a 'historical asset/income effects' context.
Summary:
There is always a risk at any age that we become unable to take care of ourselves; chances for that grow increasingly higher as we age. More and more of Long Term Care (LTC) services have to be provided and financed by families; people prefer to stay in their homes and avoid institutionalized arrangements as long as possible. Preparation for such situations is vital but most difficult. Information sources plus a decision framework is shown here to assess which is the smaller potential mistake: perhaps wasting money on insurance or gambling on self-financing the costs of a perhaps lengthy uninsured LTC period. A post
here
complements this page.
It takes a lot of maturity and strength to deal with Long Term Care (LTC) related issues. Talking about insurance (considering health or life threatening risks, on the one hand, and potential 'waste' of money spent on premiums if they do not materialize, on the other hand) in general is perhaps the more demanding side of financial planning. It is certainly so when addressing the issue of severe and chronic medical conditions, of which most of the time there is not even real hope to recover from. Although we all know that a situation like that may rule the life of any of us, in many families it's a taboo topic. Many of those people will inevitably feel sorry for this attitude and weakness later.
Thinking about the ultimate end itself may appear as an easy topic compared to contemplating the consequences of a preceding period when we need help with even some the most basic activities. That period may last for several years, and during it we are at the mercy of others, we may become a burden in various ways (physically, mentally, emotionally, financially), or have limited (physical, mental, financial) capacity to control where we live, what kind of help we get, or by whom we are surrounded. It's a most difficult challenge to prepare for such eventualities, because of a few more reasons in addition the deep emotional involvement. It can be a more complicated task than thinking about retirement asset accumulation and income planning, creating an estate plan (including will preparation and arranging life insurance), dealing with or thinking about some (hopefully) temporary setbacks due to illness or accident, and the like. Usually it's a whole family's life that gets disrupted, and organizing and managing the situation takes a lot of personal effort and coordination both within the circle of family and friends, and with outsiders: perhaps neighbors, various professionals, and public and private agencies or companies that provide health care and other services.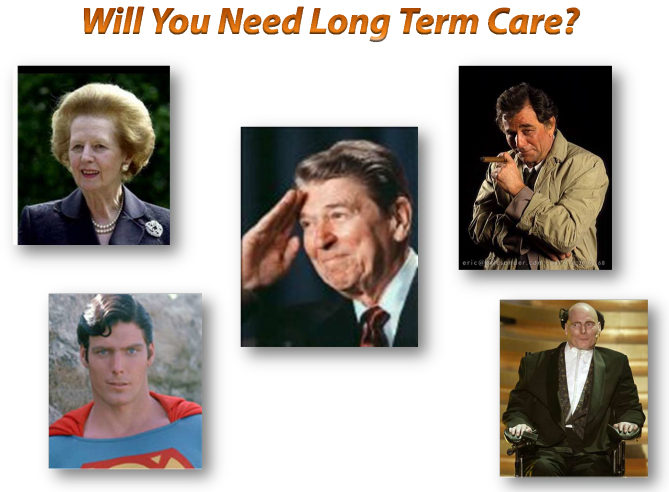 These people above are just a few well known examples for LTC receivers, … you could very likely easily compile your own album, from your own circles, of once-healthy people who became too frail to take care of themselves. For some, the change happens in a moment (like it did to my mother on her 83rd birthday); for others, it's a gradual decline. In other words, there might be ample time to figure out best arrangements for care, or there might be not. The best is to get ready by thinking things over in advance, communicate while the one most involved can still be a partner in that and while there is less stress involved for everyone due to the lack of urgency. This is the time to collect information and make some decisions, … not in the least about the financing of potential LTC. Talking about the insurance aspect (which, again, is just one of several to tackle), there are two more reasons against procrastination: insurability may be lost and premiums will be higher at a higher age.
Some people say: "If that happens, I'll just finish it all, … I don't want to live a vegetative life." While, at least for some of us, this attitude can be respectable in principle, there are three important related comments to be made:
First of all, being a receiver of LTC is not necessary a 'vegetative life' or constant suffering. There are many people in such situations who do enjoy life and who do contribute to the well-being of their families or even more broadly. Obviously an extremely rare example, but think of Stephen Hawking, the world-renowned theoretical physicist for a moment.
One can get into a LTC situation unexpectedly and suddenly (or perhaps imperceptibly slowly, that is without being aware) where she/he is simply unable to even 'pull the plug'.
There is ample evidence showing that it is one thing what we want today, and it can be quite different what we'll want under very different circumstances tomorrow. There is nothing unusual about changing our wishes and preferences in so many contexts, … why would this issue be an exception?
Therefore, the strict and abrupt rejection of considering the possibility that yes we might become care receivers of LTC is probably just one more form of denial and a self-deception trap that we can fall so easily into in many areas of life.
Purpose and structure of this page
On this page, I sketch for you the whole package of 'dealing with LTC issues from a planning perspective' but I definitely do not intend to pretend to be an expert in its many subfields. You need to learn about many things where the most I can help with is that I pinpoint contacts, sources of some basic information, and warn you against procrastination regarding addressing the issues. (I can also refer to my own experience again: The only serious tension ever between my sister and myself occurred when we disagreed about the best arrangement to pursue regarding Mom's care.)
Where my contribution can be more specific is the field of assessing the pros and cons of trying to get insurance coverage for an LTC occurrence, as opposed to other ways of financing it, and the consequences of this choice in terms of wealth accumulation/depletion, retirement income, or inheritance left at death. I put this central part of the page in a slide-show that you can either listen to or read. While you most likely won't be able to find this kind of presentation elsewhere, with some effort, anybody could recreate its content and double-check the accuracy of it from publicly available information.
Before the slideshow, I present information collected from various sources about the nature of the problem, the typical stages of its development, future prospects, and the status of it in Ontario. You will also find here a few good sources of information that you can turn to for learning and help, and at least the existence of which you should be aware of. Practically all the information presented before the slide show is from public sources you can explore further yourself. After the slide show, in the last section, I give you some introductory overview of LTC insurance policies that are available in Canada today. The character of this section is a bit different from the previous ones, in the sense that the sources of detailed insurance policy information are not really open to the public. Even though 'the devil is (or at least can be) in the details' sometimes, there will not be much technical details discussed here, because those are better left to individual discussions. It's more important to have a good grip of main aspects of LTC planning as part of retirement-, estate-, or life planning, plus a good framework and general assessment of the role of LTC insurance first, than jumping onto details too early.
Long-term care risks and solutions
What are the risks long term care insurance (LTCi) deals with?
With the prevailing phenomena of
increasing longevity, even after serious illnesses,
smaller, more geographically dispersed families, where typically each able member has own duty outside the home,
government restrictions, partly forced and exacerbated by changing demographics,
more and more people will live for long periods of time while unable to take care of themselves. Basic daily tasks like bathing, dressing, toileting, transferring from bed to chair and back, continence, or even feeding can become a problem, because of an illness, or just as a consequence of aging. Notice the order of these activities (called together as Activities of Daily Living, or ADLs) in the list: they are according to the order in which people tend to loose their ability to perform them. It's not very difficult to remember this order since it's the exact opposite of how babies usually learn to do these things.
Quite apart from the current state of the economy and government, the driving force behind the growing concerns about LTC services is simply demographics. Canada, with our high level of immigration, is not even the most challenged in this regard among highly developed countries, but a quick look at the long term trend of the ratio of the elderly to the working age population (a so-called dependency ratio) tells at least half of the story here as well.
| | | | | | |
| --- | --- | --- | --- | --- | --- |
| | 1951 | 1971 | 1991 | 2011 | 2031 |
| Elderly persons (65+) as a percentage of the working age population | 14 | 15 | 19 | 24 | 41 |
Exacerbating this situation is the additional tendency of 'ageing of the ageing', that is the increasing proportion of very old people, whose health problems demand more social expenditure, within the total group of the elderly.
Even if a person is physically fit, cognitive impairment / dementia comes frequently with age or as a consequence of certain illnesses (Alzheimer's being the most frequent of them). In fact, dementia is the most frequent reason for LTCi claims, followed by stroke, injuries, and cancer. Also, Alzheimer is the fourth leading cause of death in industrialized countries, usually after an up to 10 year period of struggling with the disease.
The recent World Alzheimer Report (available here), based on a broad review and analysis of many countries and many studies, urged that the WHO (World Health Organization) should declare dementia a world health priority. There is an urgent need for more awareness, more research, better policies everywhere, since the prevalence and the burden of dementia is growing across the board. Currently, there are about 35 millions people worldwide with dementia, and this number is estimated to almost double every 20 years. The typical prevalence rate in various countries is in the 5% to 7% range for the 65+ population, North America being close to the upper edge of the range.
Here is an interesting paragraph from the Report:
| | |
| --- | --- |
| | "The problem of low awareness is certainly not limited to low and middle income countries. For example, the National Dementia Strategy for the UK highlights stigma (preventing discussion of the problem) and two false beliefs (that dementia is a normal part of ageing and that nothing can be done)[emphasis added] as the main factors linked to inactivity in seeking or offering help. In the UK, people typically wait three years before reporting symptoms of dementia to their doctor, 70% of caregivers report being unaware of the symptoms of dementia before diagnosis and 58% of caregivers believe the symptoms to be a normal part of ageing. Only 31% of primary care doctors believe that they have received sufficient training to diagnose and manage dementia." |
According to the Report,
| | |
| --- | --- |
| | "… Alzheimer's and other dementias are main causes of disability in later life. Older people are particularly likely to have multiple chronic health conditions. These conditions interact in complex ways to create difficulties in performing important tasks and activities (disability) and in determining needs for care (dependence). Dementia has a disproportionate impact on capacity for independent living. In developed countries, where institutionalized long-term care is widely available, the onset of cognitive decline is often the precipitant for institutional placement, whereas people with quite severe disabilities arising from physical impairment continue to be supported at home by community services. As many as three-quarters or more of nursing home residents have dementia[emphasis added], and estimates of the proportion of all people with dementia who live in residential care homes vary between one-third and one-half." |
In highly developed countries, despite the fact that there are more institutionalized services used here,
| | |
| --- | --- |
| | "Caregivers of people with Alzheimer's and other dementias spent an average of 1.6 hours daily assisting with core personal activities of daily living (including washing, dressing, grooming, toileting, eating). Including time spent assisting with instrumental activities of daily living (such as cooking, shopping, laundry, household finances) increased this figure to 3.7 hours, and when general supervision was also taken into account the average care input was 7.4 hours per day." |
Even though the negative consequences of caregiving are rather clear (some studies found major depressive disorder among caregivers of people with dementia in 15% and 32% of cases, several times higher than in otherwise comparable non-caregiver groups), the Report also referred to a Canadian study according to which
| | |
| --- | --- |
| | "80% of a nationally representative sample of caregivers of people with dementia were able to identify positive aspects when asked to do so. These included companionship (23%), fulfillment (13%), enjoyment (13%), providing quality of life (6%) and meaningfulness (6%). Nevertheless, caregivers of people with dementia also experience high levels of strain, psychological morbidity and, possibly, impaired physical health [emphasis added]." |
The last direct quote from the Report that I insert here talks about prevention, and it has a practical message for the elderly and their families as well:
| | |
| --- | --- |
| | "More research is required to identify modifiable risk factors for Alzheimer's and other dementia. In the meantime, primary prevention should focus upon targets suggested by current evidence: risk factors for vascular disease, including hypertension, smoking, type II diabetes and hyperlipidemia." |
Even dementia, this perhaps most dreadful kind of debilitating disease can and should be thought of as something the occurrence of which we can influence or delay somewhat.
Either the physical or the mental kind of decline may necessitate the presence and help of a caregiver. It can be provided in the home, in an adult day care, a hospital, or in a nursing home. Actually, in the great majority of cases the care is provided in the home (often followed later by more institutionalized arrangements) and usually this is the strongly preferred solution.
The care received may take many forms, and it may require a range of skills from various care providers. Even when families can provide the home care needed (as they do in about 80% of cases), it is a big and growing burden on those caregivers. This responsibility and the accompanying constant stress exerts a serious toll on their career, family and social life, financial assets, or even their own physical or mental health. Often they end up with poor health or decreased life expectancy as a consequence. Since the care receiver might not be aware of what is going on with him/her, it is sometimes a valid question to ask: who is the real victim? The same concern is expressed in the saying: "When you need LTC, your life may not change a lot, but it definitely will for others around you".
I think this short video is a good introduction to discussing some of the aspects we've touched upon so far:

It's very likely that the phenomenon of aging will change in many ways in the next decades; some of the changes we may foresee but some will be unexpected. There appear to be two strong trends, in technology and in medical science, that may further increase life span and also 'give life to years'. The Manhattan Beach Project, e.g., "a focused and targeted all-out assault on the human aging process", aims at not less than reversing aging in 20 years. Will it happen, and if it does, will this really add healthy additional years to life? We can only speculate about that, but so far the trend toward "longer and healthier life at a higher cost" appears to be intact. (You can find and try out some longevity calculators via this comparison.) To a large extent, this longevity revolution is technology-driven.
Technology can improve quality of life for both the elderly / LTC receivers and for caretakers. Smart houses, smart ways to help people keep track of their medications, and smart sensors to detect unusual behavior patterns are some of the ways in which quality of life can be greatly improved. Just because long-term care today is overwhelmingly manual, it doesn't mean it has to stay that way. There are serious efforts being made to replace/enhance some of the personal care with improved technologies, otherwise the cost of care may escalate beyond what can be financed.
"When Silence Is Not Golden:

A Potential Long Term Care Crisis Looms

Posted November 20, 2009

The cost of long term care can severely impact your family's future financial security. Requiring care in any setting is not a topic many of us want to talk about, for obvious reasons. But the fact is,

40 percent of Americans who need long term care are working age adults 18-64

[emphasis added] – and this care comes with a very steep price tag. For example, according to recent data from Genworth Financial the national average cost for one year of home care is more than $42,000.

Dr. Ken Dychtwald, a psychologist, gerontologist and author of 16 books including With Purpose, Going From Success to Significance in Work and Life says today's Rubik's Cube-like families come in all shapes and sizes and have diverse sets of complicated dynamics but one commonality is the need to include long term care planning as a part of their overall goals for financial independence and security.

According to Dr. Dychtwald's research, the biggest financial worry among the 55-and-older population is covering uninsured medical expenses during retirement. Dychtwald adds that today people are living longer than ever before and this longevity revolution is creating an unprecedented "age wave." However, living longer creates a greater possibility of health issues along the way and the burden of caregiving usually falls to the closest relative. Given that the need for long term care is generally a topic that people do not want to talk about – even a renowned gerontologist like Dr. Dychtwald struggled with this issue – many families are not having these discussions. Dr. Dychtwald sees this reluctance to have conversations about long term care as a major hindrance[emphasis added] to developing a proactive plan to control and protect one's family's financial future.

Families that do not come together to plan responsibly for the potential future long term care needs of loved ones face serious risk of encountering financial, legal and emotional hardship that results when a crisis erupts and there is no plan in place. But, a bright picture can exist when families take the reins and make well researched decisions early."

For Dr. Dychtwald's credentials, see the source of this video (and of these four paragraphs above): http://newsinfusion.com/video_details.php?videoId=391, or http://agewave.com/, or maybe this page.
The total cost of residential care in facilities for the aged has increased 7.5% per year from $115 per days to $165 per day, from 2002 to 2007. This is equivalent to an average annual cost of $60,000 in 2007.
For really affluent families or individuals, the expenses of LTC may not be completely prohibitive even if they have to be paid for several years, but for many people they are. Government assistance is limited in scope and choice, and is linked to the income level of the individual. This means that middle-income people cannot expect that they will be fully assisted financially if need for long term care arises.
Also, financial independence for most people includes that they can select what kind of personal service they get, where, and from whom, … and if they have to rely on social assistance then these choices are certainly limited. Others are concerned that long term care might drain too much off, or even wipe out totally, their assets. The recent economic and market shocks greatly reinforced such fears and lead many to readjust lifestyle and future plans. According to a March 2009 American study, Retirement Tipping Point …

"Today's pre-retirees say they will need to postpone their retirement 4.2 years on average, which would be the first time in history that retirement age significantly increased in America. The uninsured costs of healthcare are now considered the biggest potential financial wildcard in retirement."

… and the study goes on to deal with basic financial / retirement life planning issues and lessons learned, some of them directly related to our topic here. Although these issues may be seen somewhat differently among Canadians, and perhaps some feel a bit relieved after the huge market upswing since March 2009, I think it's still very important and interesting here and now as well, … I highly recommend you read it.
With all these people and their concerns in mind, it's easier to understand – I think – why discussing LTC financing issues makes much more sense when it's done as part of planning at a higher/broader level. In essence, we should look at it as figuring out how to make our 'financial house' or 'system of financial affairs' more earthquake-proof, more resilient; one way to achieve resilience with any system is to build in some redundancy or slack. Therefore, we will address some particulars of the special type of insurance policy introduced for that specific purpose only later.
Status of LTC matters in Ontario
Currently, about 600,000 people receive various home care services in Ontario – which represents about 60 per cent of Ontarians over 65. About 2/3 of those services is personal support/homemaking, nursing represents close to 30%, while therapies of some sort are about 10%.
Home care services are either family or publicly funded. Access to the publicly funded services are coordinated by Community Care Access Centres (CCACs) which are publicly funded agencies that provide information about care options.
In this section you can get acquainted with some essential details from a recent document: Long-Term Care in Ontario: A Report on Quality , by the Ontario Health Quality Council, a government-funded independent agency. (full report is available at http://www.ohqc.ca/en/ltc.php )
This Report dealt with LTC in a relatively narrow sense, that is from the perspective of the 620 long-term care homes in Ontario that are publicly funded and host 76,000 residents. These long-term care homes are designed for people who need 24-hour nursing care and supervision. They offer a higher level of care than retirement residences or supportive housing. Homes are usually run in one of three ways:
Nursing homes are run by private corporations.
Municipal homes for the aged are owned by local councils.
Charitable homes are usually owned by non-profit corporations, such as faith, community, or cultural groups.
These are the highlights of the Report:
In Ontario, waits for places in long-term care have doubled in the past two years, from 49 to 106 days
There are drugs known to be dangerous for the elderly that are still being given to one out of every 25 seniors (both in long-term care homes and the community).
There are too many residents needlessly sent to hospital emergency departments.
Some homes have made great progress in preventing falls and pressure ulcers from happening. But we could do more to make all homes safer for residents.
Nine out of ten residents of long-term care homes rate the overall quality of care they receive as good to excellent, but only two-thirds feel encouraged to participate in their care decisions.
About 27 percent of long-term care residents show signs of getting more depressed in the three months since they were last assessed
To get into these facilities is not easy, the wait time is rather long and not decreasing: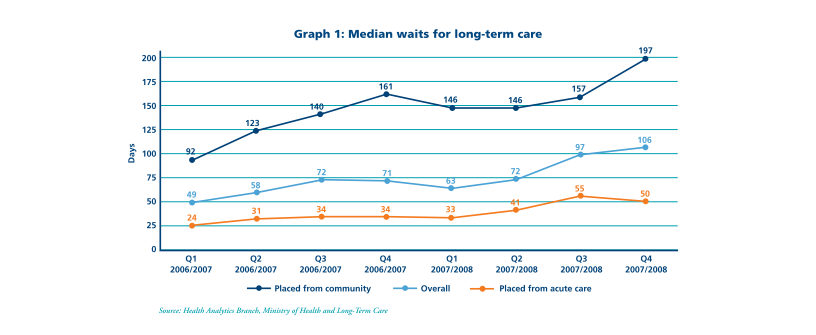 Add to this that these wait times in the chart represent provincial averages only, that there are wide differences among various regions, and that only 41% of the residents of these institutions are in their first choice of facility. There are 76,000 people in these residences in Ontario, and there are other 25,000 waiting for a bed there.
While most residents are quite satisfied with their circumstances in these homes, there are not negligible numbers of complaints and other reasons to consider these places less than desirable. Here are a few snippets from the Report on Quality document to demonstrate it:
"People who live in long-term care often end up in emergency departments for problems like dehydration, stomach flu, diabetes and bladder infections that can be prevented or could be looked after in the home. We found that for every 100 residents, this happens about 11 times per year. Sending residents to emergency needlessly [emphasis added] is stressful for the resident, and a long wait on an emergency department stretcher could lead to other problems, like pressure ulcers."

"Falls put more Ontarians in hospital than any other injury and they are especially dangerous for seniors, who tend to have bones that break easily. We found that for every 100 residents, there are about nine falls each year [emphasis added] which are serious enough that the resident needs to be sent by ambulance to an emergency department."

" Every three months, one out of every 30 residents will develop a new pressure ulcer [emphasis added]. We believe more could be done to prevent these ulcers, …"

"One out of nine residents feel they are not free to speak up to staff [emphasis added] when they are unhappy with their care."

There are regular stories in the media about frequent violence and boredom for the still more alert and agile residents in these facilities as well that are important reasons why many people try to avoid them as long as they can
The long wait time in Ontario results to a large extent from the fact that there are not enough (and increasingly less than needed) services that could help people stay longer in their home and community. LTC is not an insured service under the Canadian Health Act, and provinces are often cutting back on home care services. In Ontario, just in the last decade, government-subsidized home-care decreased from 15-20 hours per week to 3-5 hours per week; any additional home care is to be paid from out of packet.
In cases when the need for LTC arises gradually, it's important to distinguish typical stages, because they can require different services and, consequently, incur different costs:
At an earlier stage, the senior may accept help from family members only. This may take place either in their own home or a retirement residence. In Ontario, the cost of a one bedroom suite in a retirement residence of this kind (independent living with amenities, for one person, with meals) is in the $25,000 to $72,000 range.

At a next stage, more support becomes necessary: family help is not quite enough, and help may be needed with those ADLs (bathing, dressing, etc.) mentioned earlier. Costs can increase accordingly: even if just for a few simple tasks and limited times (monitoring or help with feeding, bathing, etc.), these may add up to several hundred dollars per month. If the senior moves into a so-called Retirement Home with Assisted Living (with meals served in common dining room, recreational activities, hospitality services [such as laundry or housekeeping], limited nursing care, and help with medications) where they stay in their private room and get help with ADLs, the cost in Ontario is in the $19,000 to $93,000 range.

A further stage can be when there is an extended need for help with ADLs, and typically the family goes from one crisis to the next. Formal home care may be insufficient or too expensive at this stage. If we add up all the expenses to be paid for help with food preparation, feeding, and other ADLs for one shift per day, and a few short visits per week by a registered nurse or an occupational therapist, we can easily end up with more than $5,000 per month.

Even later, exhaustion of the family (either physically, psychically or financially) may force them to seek a nursing home admission for the late stage of life. In this situation, their own role becomes more of advocates and supporters, rather than providers of further personal care. The cost of government supported nursing home care, while residing in a private room, is almost $26,000 in Ontario in 2009.
External information and support sources
Perhaps the most important source for you to learn about the details and localized specifics of LTC options is the website of the Community Care Access Centre.
Next, here is an American site:
Parent Care Solution. (You can also find Dan Taylor's book, The Parent Care Solution: A Legacy of Love in the Toronto Public Library or in bookstores.) Exploring the website is very worthwhile; if you do, you'll surely understand why I called the LTC planning process more complicated and challenging than any other aspect of financial life planning. Make sure you read the 28 Reasons Why You Can't Take Care of Your Parents & 28 Reasons Why You Can document there
I also recommend two similar sites with Canadian content. Both LTC Long-Term Care Planning Canada Inc. and the LTC Planning Network offer lots of insights and some inexpensive materials and tools. Their common feature, similarly to Parent Care Solution, is that they were founded and are managed by people who had had hands-on experience with long term care, with their own parents. Another common feature is that they do not sell insurance, still they include it as one of the many aspects that is to be handled.
While some very useful documents (with content on LTC costs, localized for various provinces, e.g.) are available from a few insurance companies as well, here I don't want to promote any, lest it be seen as favouritism. Let me refer, instead, to the book: Wealth Planning Strategies for Canadians 2009, by Christine Van Cauwenberghe. She is a tax and estate lawyer, working in the financial services business, but not for any of the insurers that offer LTCi. She emphasizes that especially "single individuals should also consider long-term care insurance as part of their long-term planning", but she's talking about the importance of it for couples as well.

At another point, she raises the issue of adult children financing LTCi protection of their elderly parents, so that they can have the financial capacity to help them if/when the need for LTC arises. Further on, she writes:
| | |
| --- | --- |
| | "Another reason to consider long-term care insurance is because the daily rates in many nursing homes are based on your income earned as a couple. Costs are usually based either on your level of income, or your level of assets, and in many cases, do not take into account that the spouse who is not in a nursing home still has to maintain a household. Therefore, one spouse could experience a serious deterioration in their standard of living in order to support the other spouse who is living in a nursing home. Long-term care insurance may help the spouse who is not in a nursing home to maintain their lifestyle." |
Although LTC is not necessarily the same as end-of-life care, often it is. The website of the GlaxoSmithKline Foundation at http://www.living-lessons.org offers useful information in this regard. I found especially the Hospice Palliative Care Fact Sheet and the 67 page A Guide for Caregivers documents very meaningful and informative. Also, the document titled as Physician Stories in the Resources section of the site is a very humane and thoughtful one.
Some good USA LTC statistics can be found at http://www.genworth.com/content/lets_talk/united_states/english/planning_for_long/statistics.html; once you're on that page, make sure you download the "Let's Talk: Conversations that make a difference" magazine that reinforces what you've heard from so many different angles and sources: communication and planning are vital, … and it also gives some practical advice and tips on how to do it well. The same company prepared a series of surveys about long-term care costs in America. The numbers are surely not directly applicable to the Canadian situation, but are still quite meaningful here as well, I believe. If you go to this page, then I suggest you scroll down to the lower part of it, and read pages 4 to 9 of the full report.
Slide presentation: A decision-making framework to assist avoiding the bigger mistake
Transcript of narrative to LTCi decision slides (What's the smaller mistake?)

Slide 01

When we are to decide if we want to try to buy Long Term Care insurance (LTCi) or not – and it's the same with any other kind of insurance as well, by the way – we can feel somewhat confused by the relative merits of the choices. Underneath the intellectual confusion and challenge related to the ability to analyze and estimate chances and costs/benefits sensibly, there are a lot of emotions at work, … fears, hopes, love, biases, denials, and so on. Often these are the main or only factors that influence the buying decision. This presentation is part of a more comprehensive page on LTCi that can be reached directly through longtermcareinsurance-ontario.info, the address at the bottom of the slides. On that page, in addition to finding a background to, and further information and discussion of the issues raised here, you have also the option of reading this narrative, instead of listening to it.

In this core component of the full-blown page, the focus is on the rational side, because of the belief that decisions in general can be enhanced by including both rational and emotional aspects, and because this rational side is too often neglected, misunderstood, or simply misrepresented. Our ambition here is not to foretell what will happen, or calculate very precise variants and options; rather, it's to show a rational framework and information source for thinking about this decision.

A simple 2 by 2 matrix will be used to organize the information we are to collect. Horizontally, we consider the buying choice: after this decision process, we either have an insurance policy bought (assuming now that successful application underwriting by the insurer is not a problem, although in real life it can be, of course), or we don't have a policy. Helping with decision in this regard is the purpose of the analysis.
The vertical aspect is to represent things that are not for us to decide about because they are not under our control, even though it would be fundamentally important to know them in advance for a perfect decision. In other words, here we distinguish the fortunate or unfortunate unfolding of our life, at least in terms of getting or not getting into a situation where we need LTC.

Slide 02

There are four quadrants to consider; each represents potential personal futures, … and it's important to acknowledge that they are exhaustive, that is there is no potential personal future outside these four cases, … we'll inevitably end up with one or the other, we just do not know in advance which one. Of course, we all hope for getting into Q3 or Q4, … and we can of course influence our chances to get there (by healthy lifestyle choices, going for regular medical checkups, etc.), but only to a small degree. Genes, circumstances, histories, or pure luck play equally or more important roles.

Slide 03

If we turn now to the main dilemma of buying or not buying, we naturally have the inclination to prefer the right side of the chart, Q2 and Q4. This potential spending is not on something that we are longing for, and we know that in retrospect (on our death bed, if you want, and assuming that we'll have nothing better to think about then) we may look back at this decision and find that it was a waste of money because we never got any monetary benefit from it.

Slide 04

Going by quadrants then, we can designate Q4 as a good outcome, … actually a perfect one: We don't suffer from LTC and we don't waste money on insurance. Who wants more?

Slide 05

Q1 is an interesting one. While we'd rather avoid it, of course, our immediate hunch is that it's still a good outcome in terms of our main interest here (that is the buying decision): If we do end up with an LTC, then having spent on the insurance would most likely be seen as a good decision. How good exactly? We don't really know, … we need some help with information about that.

Slide 06

Q2 automatically raises red flags in our mind: It's rather obvious that not having an LTC insurance policy if/when someone needs costly LTC is problematic, to say the least. Instead of a red flag, a red question mark was selected to signal our initial approach to this quadrant because at this stage we don't really see this outcome in quantitative terms. We see it would be disadvantageous to get there, … but we cannot tell 'how much'?

Slide 07

Q3 deserves a red question mark again, because it represents the 'wasting money on unnecessary insurance' situation. We have lots of desirable or simply necessary other places for our money, so it would be helpful to see how bad this bad situation is compared to the other quadrants.

Our decision dilemma can be solved perhaps best if we consider the relative costs and benefits of (or simply: the financial consequences or losses from) the two potential mistakes that we assigned the red question marks to. Since one is in the left and the other in the right half of the matrix, we cannot commit both mistakes; … on the other hand, depending on how we decide we certainly expose ourselves to the risk of committing one of them, … there is no escape from this, we cannot avoid both.

If we cannot eliminate the potential of committing a mistake, wouldn't it appear reasonable to base the decision on the choice where this potential loss is the smaller, … provided there is a meaningful difference between the two? The potential loss from a mistake is the product of the size of the financial impact and the probability of its occurrence. We will collect information about the size of the impact here, assuming (judging from statistics and experience) that there is not huge difference between them in terms of probability of occurrence.

Slide 08

To find some sensible numeric answers to our question of how the four quadrants compare, we turn to Otar Retirement Calculator (ORC), a very useful software that has been used and described in several previous of my posts. We are to run a case of a 55 year old man who is thinking about retiring in ten years and who, as part of the retirement income planning exercise he is doing, wants to make up his mind about the 'to buy or not to buy LTCi' decision. Let's call him Konrad.

Konrad has $500,000 in a 40% equity and 60% fixed income optimized portfolio, will add $5,000 to it every year before retirement (indexed by 2% per year), and – according to ORC – can expect to draw a $25,000 pre-tax but inflation-adjusted income from it until his death at age 95. Konrad wants to see the numbers for an LTC scenario where at age 75 he'd suffer some debilitating illness that would make him unable to perform the requisite Activities of Daily Living (ADLs), and which therefore trigger an insurance benefit that would pay the cost of getting the needed services. Let's assume those costs to be $36,000 per year. He can (hopefully, if he is healthy enough) get a LTC insurance policy that would pay $3,000 monthly (i.e. $36,000 yearly), after a 30 day waiting period, and for his whole life, at a premium of about $1,600 per year.

ORC calculates two major numbers that are crucial for us here as well: the unfolding amount of the portfolio value, and the likelihood of enjoying full income at various ages. There are so-called 'aftcasts' calculated for both, using actual market data from roughly the past century, and then the 'median', 'lucky', and 'unlucky' outcomes represent various levels of luck, in terms of 'real growth capacity of assets' (so to speak) in various historic periods. The core idea here is not just that relying on historic averages is unsatisfactory, but that even simulating random variations around the averages are misleading too, because the unfolding of year-after-year returns or inflation is not random; sequence of returns and secular trends matter a lot. There are periods when it's easy to invest with good results, and there are others when it's not, … and while doing retirement planning we should focus more on the latter one, because there is no or not much opportunity to fix things if assets are drastically depleted early. It is important to understand that the terms 'lucky'/'unlucky' are used in different context and refer to very different things in this presentation. In terms of the ORC software, they refer to how fortuitous the unfolding of markets, investment returns or inflation may be in the next few decades based on history (but they certainly do not present any guaranteed 'best'/'worst' that can happen, of course), while in terms of personal futures lucky/unlucky refer to needing or not needing LTC at some point. (If this approach and the ORC tool itself is new to you, then you can most likely benefit from reading my retirement-related web pages – or at least the one titled "New ways of creating personal pension type retirement income producing portfolios" -, and the original source at Jim Otar's www.retirementoptimizer.com website.)

In this very first screen capture from ORC, we compare Q4 (our favoured one) with Q3 (the one about 'wasting money on insurance'). As we can see, assuming that a more or less 'average' historic period is awaiting for Konrad, the difference between the two quadrants/scenarios is not negligible. He may live until age 95, and if he does, the difference in the inheritance he leaves behind is close to perhaps half a million. (One cannot read the exact amount from this chart, and it would derail us to go after it as you'll see later, … for our purposes an approximate reading from the chart is useful enough.) The burden of paying for the LTCi has some effect on the probability of full income as well: towards the end of his life, the chance that Konrad would not be able to draw full income would increase from almost negligible to not negligible. (Again, we could dig up the more precise numbers from ORC, but it's more useful now to focus on magnitudes than extreme precision, … so we just 'read the chart'.)

Slide 09

There is not much change in the characteristic of the comparison if the next 40 years turns out to be a very prosperous period. At age 95 Konrad would leave an inheritance of about $3 million, instead of $2 million seen in the previous chart, and the worsening in the chances for full income late in life would be about the same.

Slide 10

If, however, the next 40 years ends up something like some of the worst four-decade periods in the past century, in terms of investments and inflation trajectories, then the burden of the 'wasted money' is different. It's smaller, if we look at absolute amounts of assets (notice the difference in the scale on the vertical axis from previous charts because the apparent wider gap between the red and green trajectories is wider in percentages only; we are not talking about 2 or 3 millions of inheritance here any more), but the gap is about the same in terms of probability of full income.

Slide 11

We can indicate on our decision chart what we found by adding a moderate-size 'bigger-than' sign between Q3 and Q4, showing that Q4 is better in terms of either asset or probability of full income trajectories, but not dramatically so. Next, we'll turn to comparing our favoured Q4 to Q2, the other puzzling quadrant.

Slide 12

We can see at the first glimpse that there is going to be more drama unfolding here. The red and the green trajectories fork apart much more widely, and the difference is bigger than before both in absolute amounts and in percentage terms. One can say of course that once he has needed LTC, he won't live until age 95 anyway, so there will be not enough time for the two trajectories to grow really apart, … and there must be some truth in this claim. On the other hand, it's unkown how much a LTC would shorten life span, … the average may be just a few years further life left after such a life event, but averages are fogging the picture again: some people do have several or many years of life as LTC receivers. Even if you look at that difference in the asset value at age 85 here (instead of 95, e.g.), you'll notice that it's about $700,000.
Also, it is important to remember that we picked age 75 arbitrarily; the need for LTC may happen any time before that age as well, creating an even more shocking gap between the scenarios.

More important perhaps than the decrease in asset value would be the deterioration in the full-income probability. From a retirement income planning point of view, this is the #1 measure to watch for, and it would be especially painful to loose part of income for a person who is physically dependent on others. If at age 80 one, a healthy retiree, has to cut back spending because of unfortunate heavy asset decrease, then that person may give up things perhaps that would be nice to keep but are not vital; for an LTC receiver this unfortunate income decrease might mean a switch from care at home to an institution, … a huge difference in circumstances.

Slide 13

Basically the same story in a potential 'prosperous historic period' scenario.

Slide 14

Under a 'one of the worst historic periods' scenario, however, he may simply run out of money completely by age 86.

Slide 15

I think it's fair to signal the advantage of Q4 over Q2 as much larger than it was between Q4 and Q3. Let's turn next to comparing Q1 and Q2. What difference does it make for Konrad to have or not to have an LTC policy in case of loosing the ability to take care or himself at age 75?

Slide 16

It's more or less the same kind of chart we have seen in the previous comparison.

Slide 17

Same here

Slide 18

Same here. Notice that this is the first time when the burden of paying the insurance premium is noticeable at all on the chart before age 75. In the previous two slides (that is under more favourable historic assumptions) the relative burden is so small that the difference between the two trajectories is imperceptible, … although the red one must obviously run at higher values before age 75.

Slide 19

Here are the numbers behind the charts. One can see that at age 74 (before the need for LTC arises) the values on the right/red side are higher, since there is no insurance policy payment there. The important message is in the quick pace the advantage of the 'without insurance' side evaporates once the LTC costs have entered into the calculation. It doesn't take more than 2 or 3 years, depending on the 'historic luck' factor.

Slide 20

Based on the previous three charts, we can add another big 'better than' sign to our decision framework. Next, we are going to compare Q1 and Q3.

Slide 21

The two trajectories are following almost exactly the same path under the 'average historic period' scenario.

Slide 22

Same with the 'lucky' scenario.

Slide 23

Basically the same here as well. In fact (just like in the previous two slides, but here it's a bit easier to notice), the green line runs consistently above the red one after age 75. It should be that way, since it (the green one) doesn't include premium payment after age 75 when benefit collection commences, while with the red line (reflecting the obviously preferred Q3 scenario where no need for LTC occurs ever) the premium payment goes on all the way until the end.

Slide 24

This is the smallest size of 'bigger than' sign we can apply here between Q1 and Q3. I signaled with a different color (grey as opposed to black) the weird nature of this comparison: While we obviosly prefer Q3, on a purely monetary basis, Q1 would be better. Just a small reminder that money is not everything, I think.

We have seen four comparisons so far, and it appears clearly that a big mistake for Konrad would be letting it happen that he gets into the situation represented by Q2. Committing the other mistake, that is potentially wasting the money spent on insurance premium appeared to be much less significant. But we haven't compared these two mistake-scenarios directly. Let's do that next.

Slide 25

The red trajectory is above the green one until the (LTC) event. Afterward though, the advantage of the 'premium wasting' scenario is getting enormous.

Slide 26

Same under the 'lucky historic period' assumption…

Slide 27

… and even worse under the 'unlucky history' one

Slide 28

These previous three charts clearly support adding one more big-size 'better than' sign to the decision framework, I think. In fact, I added another sign, a much smaller one, and purely for the sake of completion, along the other diagonal as well, … that is to compare Q1 and Q4, the two life-situations that even at the beginning we found no uncertainty about in terms of decision making. I trust that you don't need three more slides to believe that Q4 trajectories are a bit (but just a bit) better than the Q1 lines, since the only difference between the two scenarios is that while there is premium payment until age 75 with Q1, there is no such expense ever with Q4. As for the extra expense of LTC, there is no such thing with Q4, while there is a corresponding / eliminating extra income from the insurance policy with Q1.

It is time to draw conclusions. In essence, the big arrows give the rational answer to Konrad, … but let's have a look at the most relevant charts together again, mainly to revisit if assigning the 'better than' signs this way and with these differences in magnitude is warranted or not.

Slide 29

Since we are dealing with the retirement life stage and with insurance, our basic approach is of caution, and our motto is: Hope for the best, prepare for the worst. Consequently, we deem the 'unlucky historic period' scenarios as most instructive, and look only at those here. Even if you didn't do so so far, it's probably a good idea to enlarge the slide by clicking on the 'Full' button under the slide now. We have seen each of these four charts before, … but putting them side-by-side shows probably more clearly why the 'mistake-by-wasting-on-insurance' (Q3 outcome) can be seen as potentially less damaging than the 'mistake-by-shunning-insurance' choice (Q2 outcome). For someone who doesn't care about how much they are going to leave as an inheritance, the lower part of the charts (i.e. the probability of full income) is the most important consideration, while for someone who does care about the inheritance, the upper half can be equally important.

Three more comments: First, when we highlighted – at Slide #2 – that 'there is no potential personal future outside these four cases' it referred to the situation regarding LTC only. Unfortunately, what is the lucky half of the matrix here – Q1 and Q3, life scenarios without LTC – does not completely exclude bad outcomes, … like serious (even costly and lengthy) health situations, due to illness or accident. LTC will cover situations only where the specific conditions (inability to perform the requisite number of ADLs alone) are met. So, it's not a panacea.

Second: In this case we assumed a certain cost for the LTC, and it's a defendable/realistic assumption, … but it's not a guarantee of course that it's correct all the time. It can be more or less.

Third: If we used a different total asset value and planned retirement income level to start with, and the same LTC cost assumption, then the relative impact of mistakes would be different. Having a lower asset-base would make Konrad more vulnerable, … the blow from an uninsured LTC situation would be more devastating, … although, admittedly, the pain from the potential 'waste on premium' would be more painful as well. We can combine these two statements in saying that – from a financial point of view at least – having higher asset value and income is preferable to having lower ones. Has it occurred to you ever? 🙂
More seriously, the timing of the LTC event at age 75 is something we should think about for a moment. Obviously, the earlier that event is assumed to occur, the stronger the argument appears to be for getting the insurance as the reasonable choice. We will get some feel of the temporal aspect if we look at running the scenario with changing only the time factor. In fact, I did run the case again, but will save you from going through the whole procedure again. In the next (and last) slide these same outcomes you're looking at now will be shown, , … with the only difference being that the assumed age of the LTC happening will be 65, not 75.

Slide 30

Here are the comparisons of various quadrants under the 'unlucky' historic conditions, when we assume the LTC event at age 65. It should be clear by now that in terms of Konrad's dilemma, the chart in the upper-left corner represents the 'mistake by wasting on insurance' option, and the other three represent the alternative decision, that is the potential 'mistake by rejecting insurance and then incurring huge LTC expenses' choice. The red lines in these other three charts are the most important outcome of the whole exercise: these are the ones to be avoided , even at the price of accepting the modest gap between red and green lines in the first chart. Going for an insurance application is not simply an emotional or fear-dictated choice for Konrad, but arguably also a rational / sensible one.

We could change assumptions endlessly, … but this should be enough for our purposes. We set out to find some numeric/financial data that tells us about how we can decrease the chance that we make a big mistake when deciding whether we want to buy LTC insurance or not. We got a rather clear (even though not perfectly precise) answer. Since we (or at least I) don't have probability distribution for LTC cases of various duration, or according to the age of occurrence, we cannot fine-tune further our calculations. What can guide us here is the preference for being approximately right, as opposed to precisely wrong. The latter could happen if we applied wrong models, wrong methods/tools, or wrong assumptions, … then the 'garbage in, garbage out' principle would materialize. However, we applied the best available models and tools, and our assumptions are very realistic, … so I feel comfortable about the lesson drawn.

Personal decision-making in general is the unalienable right of competent adults, including the right to disregard, or even go against reason (as long as nobody else is harmed), so there is no automatic final answer generated by any analysis; it has to be made not by the advisor but the individual client in a professional service relationship. On the other hand, according to my own credo at least, a professional's duty is to appeal to reason, and to show alternatives based on reliable facts, reasonbale assumptions, and rational arguments. There are no obligatory answers ever regarding money either, of course, but often one can say that one option is more warranted or more rational than the alternative, … irrespective of the emotions the situation might or might not generate. I think this is what we found scrutinizing Konrad's case as well: Trying to get LTC coverage is preferable to going for self-insurance. Why and how would your case be different, if at all?
Here are the concluding three slides from the presentation again, in case you want to skip the process and jump to the conclusion (although I don't recommend it). After running historical investment return scenarios on a realistic life case where a 55 years old has the LTCi buying dilemma, this is how we summarized our findings: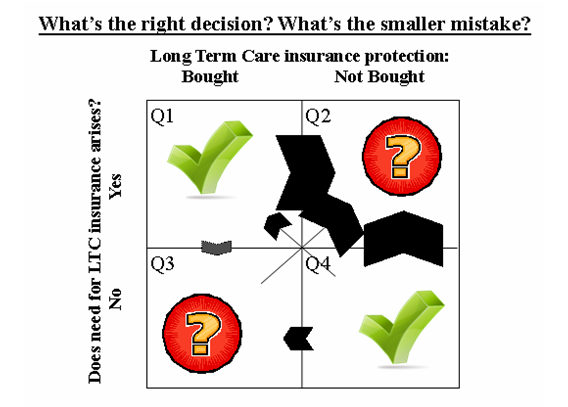 The four quadrants represent various possible futures. If he buys insurance and uses the benefit from it, then it was a good decision (Q1). If he doesn't buy it, and lives without needing it ever, then he will look back to this decision again with satisfaction (Q4). Since we don't know whether he will need the policy or not, the real dilemma is about the other two situations: If he bases the decision on assuming Q3 (buys but never uses the LTCi) then he will 'waste' money. If, on the other hand, he doesn't buy but would need it (its benefit payment, because of needing LTC) later (Q2), then he will look back to the original decision with sadness. The key point is to acknowledge that there is no way out of the situation: he simply cannot ensure that he will not make a mistake, whatever he decides.
If we knew that the chance of Q3 transpiring is very much higher than that of Q2, then we could perhaps say that 'Yes, with this outcome [Q2] the potential cost of the mistake is higher, but its probability is so much lower than the other's [Q3] that it compensates for the bigger potential loss'. However, we have no basis to assume any big difference in the probabilities. In fact, looking at the relevant statistics suggests exactly the opposite: more than half of seniors will need LTC at some point, and many of them for a long time, … long enough to reap a good return on the money spent on insurance premiums. For a couple over age 65, e.g., we know that there is a two out of three chance that at least one spouse will enter a facility at some point. The repetition of the last two slides below shows why we can draw such conclusions. Let's see Slide #29 first:

Q3 ('waste on premium') vs. Q4 ('no waste, no LTC either')

Q2 vs. Q4 (no insurance is bought: LTC vs. no-LTC need)

Q1 vs. Q2 (having insurance or not, when LTC need arises)

Q2 vs. Q3 ('mistake #1' vs. 'mistake #2')
The size of the gap between the red and green lines in each of the above charts is what we relied mostly on when drawing various size 'bigger than' arrows between the various quadrants. It's important to actually see these colourful trajectories, I think, so that to one can fully accept that this less-than-laboratory-accuracy-level matching of the size of the arrows to the charts is warranted. As we've referred to it in the narrative, calculations run with different assumptions would, of course, yield different outcome. However, and the last slide was meant to demonstrate this, the nature of the picture would not be fundamentally different, so the conclusion would stay. Look at these charts (Slide #30) yourself:
Let's change just one assumption: what if the LTC happens at age 65, instead of age 75?

Q3 ('waste on premium') vs. Q4 ('no waste, no LTC either')

Q2 vs. Q4 (no insurance is bought: LTC vs. no-LTC need)

Q1 vs. Q2 (having insurance or not, when LTC need arises)

Q2 vs. Q3 ('mistake #1' vs. 'mistake #2')
Perceptions, and framing of issues are often unrecognized pre-determinants of the outcome of our decision-making processes. I can refer again to the teachings of behavioural economics and psychology: it's vital to frame this particular decision dilemma on LTCi, e.g., in terms of 'potential loss vs. potential loss', as opposed to a 'certain loss (of premium paid if I buy today) vs. potential gain (of insurance benefit, should I need LTC … sometimes later, … perhaps)', because we are simply psychologically hard-wired to irrationally overplay the importance of a loss, and the immediate. If we, correctly, see the dilemma as one potential loss vs another, and visualize the best hard data one can come up with to measure the size of the long-term consequences of each alternative, then we have a better chance for a decision that is not completely emotion-driven.
I'd like to refer you again to the sources (by T. Kida, J. Zweig, J. Groopman, D. Ariely, and others) included in the second half of my Set out to be more self-reliant page, … and can suggest two more similar video presentations here, by Nassim Taleb and another by Daniel Kahneman. You can even watch them here together (the best is to start with this) reflecting on the current crisis and its psychological contributing factors anyone can learn from. I refer repeatedly to all these extremely smart people working in seemingly unrelated-to-financial-planning fields because from listening to them one can understand better one's limitations, … and then can, hopefully, have a better chance to overcome at least some of those.
One more aspect that can be important for some people: In this case study, we assumed that Konrad's retirement assets are liquid enough, that is if there is a need for accelerated living off of it, due to a health situation, then the money is there to be used, … it will just run out sooner, and he will leave a smaller estate than if he had been insured. However, for someone whose retirement income is coming (at least to some meaningful degree) from illiquid assets (from a rental property, or 'quasi-assets' as a pension or an annuity could be looked at, e.g.) the situation could be more dire at the time of an LTC. He/she may have a good income stream lasting as long as he/she does, still remain without much wiggle-room in terms of liquid assets to pay for higher than planned for expenses. In a fragile situation like this, the rational for buying the insurance policy is obviously even more compelling.
How long-term care insurance addresses these challenges?
Long term care policies, introduced in the USA in the 1970s and quite popular in several European and Asian countries but hardly known in Canada, pay some periodic (daily, weekly, monthly) benefit if the insured cannot perform basic activities of daily living independently. The incapability, including intellectual decline, may result from any cause, except some specific exclusions in the contract. This kind of protection is available for individuals aged 16 to 80, and the coverage will continue as long as the premium is paid. This lower age limit is a reminder that – although LTC is associated with seniors in our thinking, and has been discussed as such here as well – serious mishap (either illness or injury that necessitates LTC) can happen at younger ages as well. The main difference is perhaps that LTC at an advanced age is typically permanent, for life, while it can turn out to be temporary at younger ages.
With some policies, the premium paying period is (or can be) 10 to 25 years, depending on age; moreover, if the policy is canceled after being in force for a certain time period, the coverage will not stop, but will be transformed to a paid-up policy with proportionally decreased benefit. With another policy, the owner can select any amount (in increments of $10) between $20 and $300 as a daily indemnity. In other words, the selected amount will be paid out, tax free, for every day when verifiably long term care was used, irrespective of the actual costs incurred. The policy also reimburses the cost of renting durable medical equipment, up to a limit, or provides payment toward the cost of installing and maintaining a communication system that can be used in case of emergency. Usually, one can buy 'facility care only' or 'either facility or home care' benefit options; in other cases, the location of receiving care is irrelevant. With this kind of policy, once the insured cannot perform at least (usually) two ADLs (or becomes cognitively impaired), the benefit is paid without any further documentation or receipt.
The total benefit can be unlimited, or it can be maximized as 2,000, 1,000, or 750 times the daily benefit selected. In other cases, the benefit period is either 1, 2, 3, or 5 years. The maximum monthly benefit amount to apply for is $10,000 per month. Finally, the insured can decide whether the benefit will commence on the very first day of the future long term care need, or only after 30, 60, 90, or 180 days. The premium will be, obviously, effected by these choices. The premium is level, and is according to the age when the policy commenced. There are some optional (or automatic) benefits and riders available, such as waiver of premium, future purchase option, inflation protection, coverage for family members, or return of premium at death. All these can play a role in finding the best option for any particular situation.
There are just a few, about half a dozen, companies yet offering this type of insurance in Canada. Fortunately, some of them offer long term care protection not just as a stand alone policy but also as a rider on universal life (UL) insurance. This is good news, since – because of the favourable taxation of investment gains within UL – it can actually decrease the cost of protection.
Premiums are usually guaranteed for 5 years only; after that, there are various versions, with only one company guaranteeing a lifetime cap of 50% over the original premium. Insurers are forced to leave the option open to increase premiums, because of the lot of unknown regarding future claims, … the field (demography, medicine, technology, etc.) is changing too fast for them, and they have still less experience and statistical data base to rely on than with life insurance, where fully guaranteed rates are standard. Since there is competition going on for clients, they will not raise premiums unless forced to by circumstances, and even then it's contractually guaranteed to occur only on a class basis, … meaning that they have to do it for large categories of clients, without singling out individuals.
Another important development concerning long-term care needs is the inclusion of 'loss of independence' in some critical illness insurance (CI) policies. This kind of policy would pay a contracted lump sum (max. $2 million) 90 days after the insured has become unable to perform some basic self-care activities, due to either physical or mental impairment (but excluding mental and nervous disorders without a demonstrable organic cause). This CI coverage is not a perfect substitution for a separate LTC policy, but still somewhat similar. There are other combinations of different kinds of coverages available as well that end up with offering LTC coverage.
A few closing words about getting LTC coverage, that is the underwriting done when someone submits an application. It's important to know that the decision by the insurer is based on different criteria than used for other kinds of insurance. What it means is that just because someone can buy, e.g., life insurance, it doesn't guarantee that they can get an LTC policy as well. On the other hand, just because one is unable to get a critical illness or disability insurance policy, for health history reasons, it doesn't automatically mean one cannot get an LTC policy either. In various ways, it`s correct to say regarding any of these protection types that you buy the coverage with your health, you just pay for it with money, … but the specific meaning varies by types of protection sought. Because of the huge role of mental / cognitive diseases in LTC, there is a phone or face-to-face interview as part of the underwriting process that aims to screen out mild cases as uninsurable. (Again, you can read more about underwriting issues, CI policies with LTCi-like coverage, and potential self-financing of LTC here.)
This last section on LTC policies will certainly not make you an expert, of course, but it should be enough to indicate the main variables, and some important aspects. You can learn more from a very good booklet, Long Term Care Insurance in Canada: What is it and do I need it?, published by The Council on Aging of Ottawa.
Last update of page: Jan 18, 2010